The fintech scene is booming. Berlin, London, Silicon Valley and New York City-based fintech start-ups are disrupting the traditional financial services industry. These innovators are garnering incredible amounts of investment, 2014 witnessed $12.2 billion worth of investment in fintech ventures and 2015 numbers are set to show more than $20 billion. The fintech sector is estimated to be worth almost $5 trillion so safe to say that it is fast becoming a major sector bringing with it challenges and opportunities to the incumbent players of the financial services arena. How will this juggernaut affect wealth management?
Fear or embrace?
The last three years has seen the rise of the 'robo advisor', defined as low cost computerised asset allocation application. It has been viewed as a direct threat to the traditional offline advisory services. The next generation clients prefer the automated digital advice received via mobile communication technology and the low and transparent fees sweeten the offering.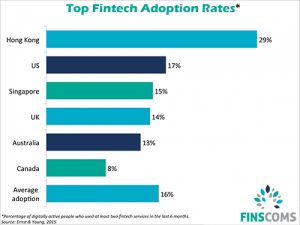 Traditional wealth managers should not run for the hills but instead embrace technology as a facilitator for improved client relationships and the creation of new client relationships through the added reach of a 'robo advisor' application. Algorithmic guidance can compliment bespoke human advice from traditional advisors, enhancing services and remaining competitive.
Another way asset managers may benefit from the fintect revolution is through investment research. There is an opportunity to enhance operations by analysing more data in a cost effective manner. Fintech firms are making use of military grade intelligence software that is taking many funds to another level in analyse and data curation. The cost of gathering first class data has been dramatically lowered as for example smaller funds can access start ups like Symphony on an á la carte basis.
Financial service firms have also begun investing in fintech start ups and even acquiring them. For example Fidelity Investments bought eMoneyAdvisor in 2015. Some are launching their own fintech divisions e.g. Citigroup has launched Citi FinTech. These companies have recognised the threat and have chosen to embrace it.
Finscoms is at home in the digital world and an expert in helping funds enhance their client services. Through digitalisation we have found smarter ways to market, communicate and distribute your fund. Find out how we can create added efficiency to your operations.